Podcast: Play in new window | Download
Subscribe: iTunes | Android | RSS
Strategies to Capitalize on Potential Relationships with Influencers
In this week's episode of the Crazy Dad Life podcast I share 7 ways you can engage with influencers and maybe establish a true relationship going forward.
I also share my Michael Jordan story! (yes, he had me shook)
7 Things to Do When an Influencer Hits You Up
Here are 7 quick and easy approaches you can take if, and when, that major industry beast just so happens to send you a message.
1. Calm the F*&$ Down
It is natural to be a little freaked out and jittery when someone of influence actually realizes you are a live breathing human being.
First things first, calm down and realize they put their pants on the same way you do….hopefully.
2. Reach Back
Do not try to play the coy role or act like you are back in middle school and trying to be cool by waiting to call back the person interested in you.
You need to strike when the iron is hot and reach back as soon as possible.
3. Recognize Their Work
Everyone loves an ego stroke. Do the right thing and recognize the work of that particular influencer.
Even if it is a competitor you should still recognize the value they bring to your shared market.
4. Ask If They "Know People"
People love to be seen as someone that "knows people". Ask them if there is someone you should know about or if they can connect you with anyone they think might align with your goals and vision.
5. See If You Can Work Together
This is obviously the Holy Grail when dealing with an influencer.
If you have the ability, or game, to get an influencer to actually work with you…*drops the mic*
6. Create Content About Them
One great strategy is to feed their audience to boost yours. What does that mean?
Do this, create a blog post about their product/service/brand. Let them know that you created the blog post and share the link with them. You have a pretty good chance that they will share it with their audience.
That should result in a nice little bump of visitors to your site and hopefully growth of your overall network.
7. Keep it Going Without Being Annoying
Ok, so in the episode I mention that old Looney Tunes cartoon with the big dog and the little dog bouncing all around him. Well, I confused these two guys (Spike and Chester)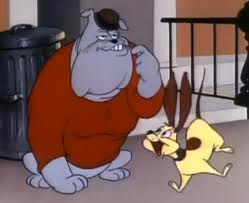 with this guy (Ralph)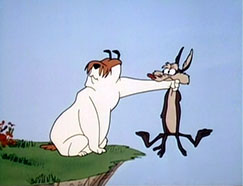 So even if I reference Ralph in the episode, I really mean Chester. Do not be Chester. Do not annoy Spike all the time.
Try to keep your new budding relationship going without seeming like an overly indulgent annoying desperate fan boy.
5 Things I Learned (5TIL)
In this week's 5TIL I discuss…
Mayweather vs Pacquiao Twitter numbers
Periscope piracy during the big fight
Facebook's super cool Safety Check feature for loved ones during a catastrophe like the Nepal earthquake
Other Links Mentioned
Here are some other links I mentioned on the show.